Serving the Wilmington Area since 1913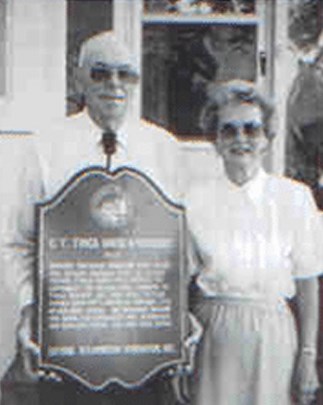 Eelco I. Tinga, born and educated in the Netherlands, studied Horticulture in Holland and England where he learned to speak English. In 1906, he immigrated to the United States and worked in a Long Island N.Y. Nursery. There he met Hugo Van Nes and they decided to start their own business. After finding that there were too many rocks in the soil in Holland, Michigan, in 1908 they settled on two 10 acre tracts in Castle Hayne, N.C. that were advertised as part of the Hugh MacRae colonies. After opening the Holland Nurseries, the two nurserymen grew flowering shrubs that could be crated and shipped to northern markets; vegetables; and cut flowers, such as daffodils and dutch iris that were sold in the Wilmington area.
In 1912, they acquired an additional 30 acres located a few miles south of Castle Hayne proper. When Van Nes married, Tinga moved to a boarding house in the area. He rode his bicycle to his land everyday and cleared his property with a mule and dynamite. In 1913, the Tinga Nursery and Truck Farm was started. Eelco married in 1917 and built his home on the nursery. That home, the original barn, wash house, tenant room, and bulb barn are still in use on the nursery.
Eelco Tinga bought one of the first cars in the area. He, with the help of neighbors, put up poles and lines for the first phones. As the business matured, the name was changed to Tinga Nursery and Bulb Farm, and later to Tinga Nursery Inc. The Tingas had three sons: John, who retired as a commercial cut flower and soy bean farmer; Jacob, a Doctor of Horticulture, retired from the University of Georgia; and Eelco who retired from the Tinga Nursery. The Nursery is now operated by his son, Eelco H. Tinga, Jr., and his son, Eelco H. Tinga, III. Eelco H. Tinga, III. has two sons, Eelco, IV and Fisher. They hope that the fifth generation of Tingas will manage the business in the future.
In over 100 years of operation, the Nursery has grown from the first phones to high speed internet connections, from hand watering to computerized irrigation systems, from B&B plants to #10 vegetable cans collected from local restaurants to plastic container grown plants; from mules to tractors, pickup trucks to delivery vans, and from cold frames to heated greenhouses. The Tingas look forward to more new developments as they grow into the future.